ALERT:  Another Tech Support Scam Making the Rounds
Tech support scams are getting more and more sophisticated.  
Security giant Symantec states, "These scams remain one of the major and evolving forces in the computer security landscape.  Between January 1 and April 30 this year, the Internet Crime Complaint Centre (IC3) received 3,668 complaints related to tech support scams, which amounted to adjusted losses of almost US $2.27m."  And that's just in the U.S.
Now, there's a new scam that's popping up on computer monitors everywhere.
The scam starts when the victim unknowingly visits a compromised website.  Then, according to Symantec, "the web page displays a fake 'hard drive delete timer' that warns the user that their hard drive will be deleted within five minutes.  A warning audio tone is also played in the background, which again warns the user that their system is infected."
Victims then receive a popup "alert" on their monitor, claiming to be from the victims' "Internet Service Provider", or Microsoft, or something similar.  The popup 'alert' states it is warning the user that their hard drive will be wiped of all data…unless, of course, they call the fake customer support number (which of course they are nice enough to provide you with).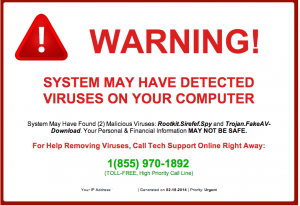 Another variation is that your screen goes blue, and claims that your computer needs to be repaired.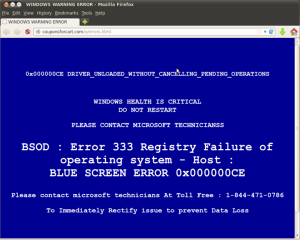 DO NOT call any numbers provided to you via popups.  Do NOT click on any links.  Do NOT open any attachments.
If you think the warning might be legitimate, call your Internet provider, or whoever the popup is claiming to be from…but look up the phone number yourself.  Or go to their website by typing their website into the address bar yourself.  Never call numbers provided, click on links, or open attachments.
From January 1, 2016 through October, Symantec has blocked more than 157 million tech support scams.  
The U.S., UK, and Canada were the countries targeted the most by tech support scams.
You can't stop CyberCriminals from targeting your company or employees.
But you can be prepared for their arrival, and have full shields up.
Got CyberBugs?
Call 1-204-800-3166
For Cyber-Extermination!
#itthatworks