Just when you think CyberCriminals can't sink any lower…they prove you wrong.
The new phishing scam preys on a parent's fear for their child.  
The scam email looks like a warning for parents about a child predator that moved into their neighborhood.
The email has a subject line such as
"Alert:  There is a child predator living near you!  This information is based on your local area zip code."
But you don't remember signing up for such a service (Red Flag!)
When you open the email, it 'warns' you that a predator has moved into your area and it provides a link to click on for more information.  If you click on the link, you are re-directed through several sites to land on the "Kids Live Safe" website, which is a service that sells localized reports on sex offenders.  They just send you there to try to look credible, and to distract you from the fact that your computer is now infected with malware that will steal your passwords, credit information, everything from your passwords up to and including your identity.
The email looks similar to this: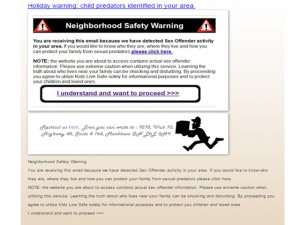 If your computer is infected with malmare, bugs, or other annoying critters,
Call 1-204-800-3166
For A Cyber-Extermination!