Alert:  Hackers Attempting to Access BitCoin Wallets
A recent study has shown that phishing attacks using Bitcoin as scam-bait have a much higher click through rate than other campaigns.
In the past while, new criminal phishing campaigns have started claiming that hackers have tried to access your "Bitcoin Wallet", even if you do not have a wallet with this kind of currency.
The email subject is a bogus alert of a "Suspicious sign-in attempt" and to make sure no Bitcoins are stolen, you are supposed to reset your password. The email even has a "case incident" number to make it look official.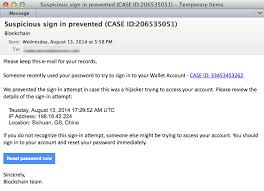 Do not click on any attachments!
If you are suspicious that your BitCoin Wallet has been tampered with, manually look up your BitCoin wallet (do not click on the link provided – manually type the URL, or address).
Ask About Our 'Core Security' Package!
Got Cyber-Bugs?
Call 1-204-800-3166
For Cyber-Extermination!