ALERT:  Phishing for Apples
BEWARE of FREE Apple Watch GiveAways!
Last week Apple had their big Apple Watch release event.  The Press took note, and has been full of news about the models, and pricing ever since.
CyberCriminals are also taking note, and are trying to ride the wave of enthusiasm for the newest smartwatch.
CyberCriminals are using social media (Twitter, Facebook, etc) to try to trick people into clicking on links, entering fake "contests", or forward messages to their friends.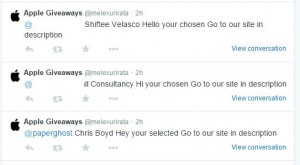 CyberCriminal gangs are setting up Twitter accounts named "Apple Giveaways", targeting users that mentioned the smartwatch in their Twitter feed.  They tell people they have been "chosen", and promise them a free Apple Watch.  All they ask them to do, is to click the link in the message.  The link leads them to a series of links and instructions, leading them to other dubious web pages.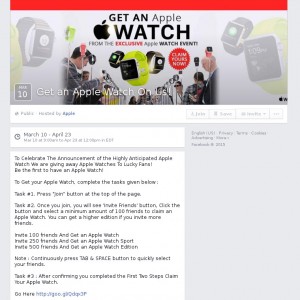 CyberCriminals also have set up Facebook event pages asking victims for their 1st and last names, including Facebook handle.  They are asked join the event, and invite a minimum of 100 friends.  They are told that 100 invites earns them an Apple Watch, 250 invites = an Apple Watch Sport, and 500 invites = the Apple Watch edition (sold by Apple for $17,000).
 CyberCriminals often release phishing scams, to coincide with highly anticipated product launches and news events, preying on victims' excitement and vulnerability.
Got Computer Bugs?
Call 1-204-800-3166
For Cyber-Extermination!