Uber Hacked
…But Covered it up for Over A Year
The infamous & controversial Uber fell victim to social engineering and, as a result, the personal information of 57 million people were stolen (including Uber drivers and customers).  Uber paid off the hackers, to the tune of $100,000.  Supposedly the hackers deleted the information upon payment, but it's doubtful.  Hackers are not known to be upstanding citizens…  More likely, the information was sold to the dark web, or will be.  
Even worse…Uber did not disclose the theft for over a year.  Not great business practice to cover up a theft, especially one this massive.
What does this mean for any past Uber drivers or customers?
Be wary of any emails related to Uber.  They will likely be the usual "your account has been compromised", in an attempt to gain even more information.  However, it's just speculation at this point.  They could use anything to try to get your password, or more personal and/or financial information.
It could look something like this…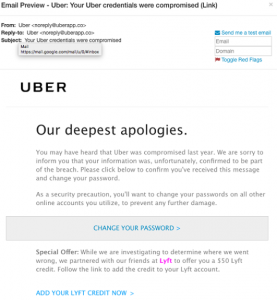 NEVER click on a link in an email. 
ALWAYS go to the website yourself through your browser's address bar, or a bookmark you have set earlier.
Want help?  Need an IT partner that cares as much about your business as you do?
Call Technology by Design.  We'll build a custom IT plan to suit your needs AND your budget!
You can't stop CyberCriminals from targeting your company or employees.
But you can be prepared for their arrival, and have full shields up.
Got CyberBugs?
Call 1-204-292-8293
For Cyber-Extermination!
#itthatworks