A True I.T. Partnership!
An I.T. Partner, Not Provider
We understand why your critical business services are so important to your daily operations.  This is why we spend so much time aligning our technology to support your initiatives.  Building a program that relies on 24 x 7 x 365 network monitoring coupled with an aggressive preventative maintenance component ensures optimum uptime for your business.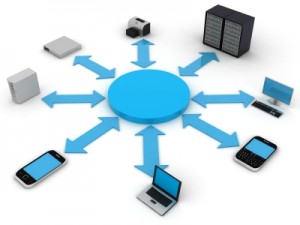 One of the major challenges in maintaining a computer network is trying to predict what will fail and when.  With our Managed Service Plans, we can prevent many network failures from ever happening.  By combining regular and comprehensive preventative maintenance and robust real-time monitoring of your critical network and desktop devices, we ensure the reliability and stability of your I.T. assets.
This solution is so effective that our customers see almost immediate results.  A regularly maintained network means fewer failures, yielding higher productivity and saving on support costs for you.  At the same time, your exposure to security risks is dramatically lessened, and frustration from unstable I.T. resources almost vanishes.  We allow our customers to focus on their core business functions by taking the worry out of owning a computer network.
Do These Issues Plague Your Business?

Network Neglected?  Is your I.T. perceived as a "necessary evil" and not as integral to improving business performance?
Downtime Impact?  Are I.T. outages distracting your staff from their core focus or prohibiting them from working efficiently?
Distracted Employees?  Do your staff rely on other non-I.T. employees to deal with distracting I.T. problems?
---
Program Advantages:
Increased Productivity:  Continuous insight into your network allows us to reduce the business impact of I.T. failure by shortening the time from network failure to issue resolution.
Reduced Business Impact from I.T. Failures:  Combining preventative maintenance and remote monitoring means we minimize failures that could impact your business.  Your network behaves in a stable and reliable manner.
Reduced Network Downtime Through Proactive Maintenance:  Through regular, preventative maintenance activities designed to keep your network operating efficiently, we reduce the number of emergency incidents you encounter.
Technology by Design has really helped us by allowing us to do our jobs without any I.T. concerns to slow down productivity.  What this means is less downtime dealing with technical matters.

Technology by Design makes our business better!

– Craig Woycheshin, Technical Sales, Drive-Line Services
 

Features:
Elements
Services
Proactive Server
* 24x7 Advanced Performance Monitoring
* Key Application Maintenance
* Microsoft and 3rd Party Patch Management
* Scheduled Preventative Maintenance
Proactive Workstation
* Microsoft and 3rd Party Patch Management
* Scheduled Preventative Maintenance
* Availability Monitoring
Proactive Backup
*Backup Deployment and Configuration
* Backup Performance Monitoring
* Backup Software Updates
* Scheduled Backup Jobs
Proactive Support
* Network Health Reviews
* Additional Network, End-User and Network Support
Proactive Security
* Anti-Virus Monitoring and Management
* Anti-Spam Monitoring and Management
Proactive Network
*Router/Switch Performance Monitoring
Stop Buying Downtime – Invest in Uptime
Call
1-204-800-3166
TODAY!