Scam – Reset Password Alert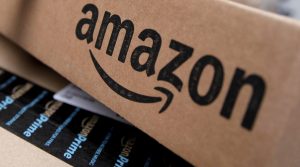 Yet another scam making the rounds…
This one is a spoofed email from Amazon, claiming that Amazon has detected an unauthorized attempt to reset the password on your account.
The notice users are receiving are similar to the one below: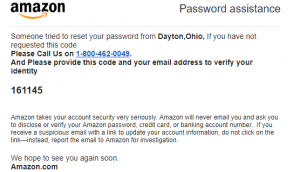 A 6-digit code is provided, along with instructions to call the number provided to "verify your identity".
When users call the number provided, reports indicate the call is answered by an individual who attempts to direct them to a website in order to input more information.
Although the details about this scam are sketchy, it's likely an elaborate credentials phish, or the set up for yet another "tech support" scam where the cybercriminals inform users that they must download a (infected!) file to allow their personnel to "clean" their computer of malware.
If you receive a notice, whether it's via voice mail, email, onscreen, or text, asking you to call the number provided…
NEVER call the number provided.  ALWAYS look up the phone number on your own, using a verified website. 
NEVER click on links provided in emails, texts, or onscreen messages, unless you can verify where it is from.  
Want help?  Need an IT partner that cares as much about your business as you do?
Call Technology by Design.  We'll build a custom IT plan to suit your needs AND your budget!
You can't stop CyberCriminals from targeting your company or employees.
But you can be prepared for their arrival, and have full shields up.
Got CyberBugs?
Call 1-204-292-8293
For Cyber-Extermination!
#itthatworks