Gmail Phishing Scam
Password Reset
There is a new scam where hackers send you a text that asks you if you recently requested a password reset on your gmail account.  The text instructs you to reply with the word "STOP" if you have not requested the password reset.  You also receive another text giving you a 6-digit code.  Next, you are urged to send the 6 digit numerical code in order to prevent the password being changed.
The texts could look similar to the one below: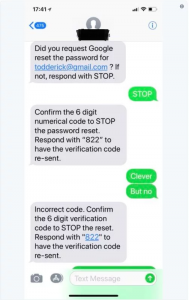 Unfortunately, what's REALLY happening is that the hackers have requested a password reset on your gmail account.  Gmail then sends the real owner (you) a 6-digit code to verify that they actually want the password changed.  By replying to the text with the 6-digit code, this gives the hackers the tools to complete the password change.  Now they have access to your gmail account, all the email, and any personal or financial information you may have in those emails.
REMEMBER:  Gmail or any other web email service will NEVER ask if you *don't* want to do something with your account.  If you didn't ask for a password reset, you shouldn't be asked for one.
DO NOT REPLY to the text.  Doing so will tell the scammers that they have reached a valid number!
To prevent losing your account to hackers, it's a very good idea to have 2-step verification set up on your Google account.  It may be a pain in the butt day-to-day, but it could save some much, much bigger pains in the future!
Want help?  Need an IT partner that cares as much about your business as you do?
Call Technology by Design.  We'll build a custom IT plan to suit your needs AND your budget!
You can't stop CyberCriminals from targeting your company or employees.
But you can be prepared for their arrival, and have full shields up.
Got CyberBugs?
Call 1-204-292-8293
For Cyber-Extermination!
#itthatworks