Apparently geeks go after their own now…
ALERT:
Enter to Win FREE Tickets to Star Wars
The upcoming December of the next Star Wars Episode VII:  The Force Awakens movie has been eagerly anticipated, and is scheduled for mass release in the U.S. on December 18, 2015.  
CyberCriminals are using this anticipation, and are trying to trick people by offering free tickets to the upcoming theater release.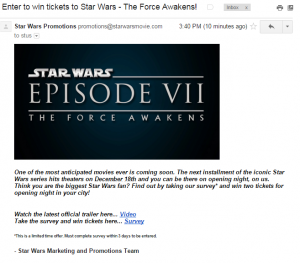 Over the next 2 months computers everywhere will be deluged with scams.  Until the December 2015 release (and likely for weeks afterwards) people will receive emails that ask you to enter sweepstakes, fill out surveys, or enter information to win coupons for free movie tickets.  CyberCriminals will employ every trick in the book to get you to open their emails, click on attachments, or open zip files.
Do

NOT

fall for these tricks.  
Instead of free tickets, all you will win is a bill from your friendly neighborhood computer geek, because you will be downloading and infecting your computer (and possibly the whole computer network, if you're at work!) with malware or a virus.  If you're using a work computer, you risk infecting the whole network. 
Technology by Design clients that have purchased our Spam Filter don't have to worry, the spam emails will not get through.
However, they cannot open things willy-nilly.  A well-intentioned friend in your contacts can still directly email you the link/entry form/etc.
Check out our "Email Red Flags"  for what to watch for, in suspicious emails. 
You can't stop CyberCriminals from targeting your company or employees.
But you can be prepared for their arrival, and have full shields up.
Got CyberBugs?
Call 1-204-800-3166
For Cyber-Extermination!
#itthatworks