ALERT:
iDNS Canada Domain Scam
For those of you that manage your own domain name, you may see a letter similar to the one below come in the mail.  It usually shows up a few months prior to the expiration/renewal of your domain name.  
It is a SCAM.  
This company is counting on people taking a quick look, and not taking time to read the fine print…
At first glance, it looks like you have to shell out some money in order to renew your domain name, and that your domain name is owned/managed by iDNS Canada.  
Although you do need to pay annually for the renewal of your domain name (unless you paid for several years at a time), the fee is paid to whomever you initially purchased/registered your domain name.
Take a look at the highlighted areas of the form: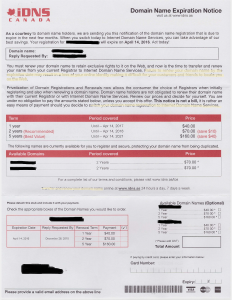 First, they're hoping you read the first highlighted area and automatically fill out the form out of fear of "a loss of your online identity making it difficult for your customers and friends to locate you on the Web".
What this form is, is actually a request giving them authorization to transfer ownership of your domain name to iDNS Canada.  Once you fill out this form, you are not only paying an inflated renewal rate, you are giving them ownership of your domain name.  
They are nice enough to offer you ownership of similar available domains, (eg. www.yourcompany.org), which is a good idea.  However, you can do this through the company you initially registered (and will notify you when your domain really comes up for renewal).
Remember:  Read the fine print!  When in doubt, ask your I.T. provider.  
Check out our "Email Red Flags"  for what to watch for, in suspicious emails. 
You can't stop CyberCriminals from targeting your company or employees.
But you can be prepared for their arrival, and have full shields up.
Got CyberBugs?
Call 1-204-800-3166
For Cyber-Extermination!
#itthatworks