ALERT:  
IRS Refund Ransomware Scam
Wait until the last minute to file for Income Tax?
Waiting with bated breath, knowing deep inside that you'll have to pay dearly, but secretly hoping for a surprise refund?
CyberCriminals are aware of this, and are taking advantage of people while they're vulnerable.
(That's what CyberCriminals do best!)
Knowing that people are waiting for official word from their federal tax agency (IRS, Canadian Tax Services, etc.) pending refunds,
CyberCriminals are working overtime, hoping to receive their own 'bonus'!
CyberCriminals have a massive email campaign, sending emails that reportedly want to inform you of your tax refund.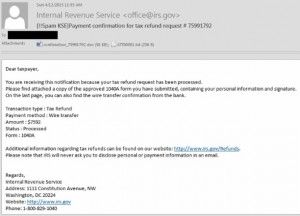 It will look similar to the email to the left, tailored to your specific location, of course.
They ask you to click on a link to a Microsoft Word attachment to receive for information.
However, instead of a tax refund, you'll be opening an infected Word file.
The infected file holds a ransomware payload, and encrypts the files of the PC that opened the attachment.
The bonus?
It'll also encrypt the files on all the connected network drives.

And your screen will look similar to the one on the left.
Once that happens, you'll be forced to pay the reported $500 ransom by a deadline.
If you miss the 1st deadline, the ransom will go up.
Pass this post on to friends, family, and coworkers.
The more people that are educated about this type of attack, 
the less effective the attack will be!
Got Cyber-Bugs?
Call 1-204-800-3166
For Cyber-Extermination!