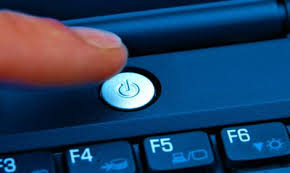 Dear Geek,
When I'm done with my computer, I usually just hit the power button. A friend told me that I should click "shut down" instead. Who's right?
Signed,
Turned Off
Dear Turned Off,
Bring out your wallet, because you've lost this bet.
When you're done surfing the web, hitting the power might seem like you're saving time. However, Microsoft has included the shut down feature because it enables the computer to safely shut down all programs, including "background programs" that you don't realize are running, and to go through all the necessary steps that are required before powering off. Many versions of Microsoft Windows will actually check the computer for any problems, if it hasn't been shut down properly.
You should always click "shut down", unless there is an issue. Even then, you should be hitting "Control-Alt-Delete", where you can also go through the shut down process.
Do you have a question for our Resident Geek?  Email your questions to

geek@tbyd.ca.
Have computer or network issues?  
Call Technology by Design at 204-800-3166.  
We'll get you up & running.
We Make I.T. Work!
www.wemakeitwork.ca