FREE Security Checkup
February 10 was Safer Internet Day
Although you should practice safe internet policies every day, this day is to bring focus to how important online safety is.
Please take 2 minutes out of your day to complete a simple Security Checkup.
This checkup makes sure you are making the most of the 24/7 protection you receive from TbyD (if you're on one of our Monthly Service Plans).
Google is giving you this FREE checkup.
If you complete this checkup by February 17, 2015, they will give you a
permanent 2 GB bump in your Google Drive storage plan

.
It takes just a couple minutes and, unlike other checkups, it won't leave you feeling guilty about not flossing.
Here's what it does:
Ensures your account recovery information is current.

If they detect suspicious activity in your account, they use your recovery info to get in touch and make sure no one but you gains access.

Lets you review recent sign-in activity.

Reviewing this lets you validate the sign-ins are coming from you and not someone else who shouldn't be using your credentials.

Confirms the apps and devices that access some account information.

This step lets you monitor this list and remove apps and devices that don't need access to your account any more.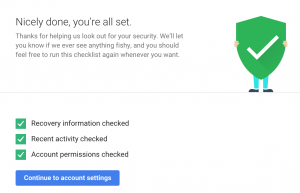 After you've gone through the checkup successfully, you'll see 3 green checkboxes (see left) that confirm you're eligible for the free storage and, more importantly, that you've taken steps to enhance your online safety.
Google will be granting the storage automatically to everyone by around February 28, 2015, and they will send you an email when your adjustment is complete.
Ideally, you'll revisit this checkup every so often, or anytime your account changes, like when you get a new phone or replace an old laptop.  
While this is just one way to help you stay safe online, you can find even more tools and tips in the Google Safety Center.
**Please note:  Google Apps for Work and Google Apps for Education users are not eligible for the bonus storage, but should still consider taking the Security Checkup.
Got Cyber-Bugs?
Call 1-204-800-3166
For Cyber-Extermination!