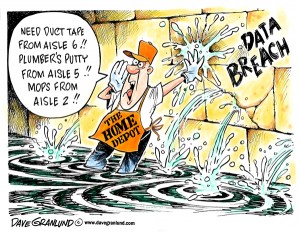 Home Depot Lawsuit
There have been a speculations that there will now be multiple class-action lawsuits filed against Home Depot based on the fact that they were negligent in regards to their IT security.
Some ex-employees from the Home Depot IT department are now claiming that management of the retailer had been warned for years that their Point Of Sale systems were open for attack and did not act on these warnings.
These same ex-employees claim that Home Depot relied on an antivirus program that was not being updated with new definitions. As well, security scans were done very irregularly, and only on a small number of stores, which meant that they were not able to detect any breach or see any unusual actions.
Moral of the Story?
Updates, updates, updates.  
Ask About Our 'Core Security' Plan!
Got Cyber-Bugs?
Call 1-204-800-3166
For Cyber-Extermination!
We Make I.T. Work!