Batteries – To Drain Or Not To Drain…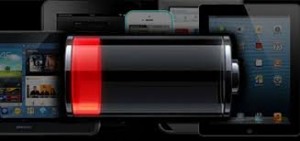 Everyone, from your neighbor to your great-aunt's dog-walker's niece, has their opinion on this.  Some say to drain it completely before re-charging, some say that you should keep it between 40% and 80% at all times.
But which is the truth?
A lot of this is confusion over how batteries used to work, not how they work today.  Luckily, most or all of your gadgets today run on Lithium Ion batteries, which are easy to take care of.
The short answer – – Charging incorrectly can decrease their lifespan.  Most lithium batteries should last you a few years, and batteries have a finite life, no matter what, so your efforts will only help to extend the life so much.  However, improper care can decrease that lifespan, meaning your battery will be unable to hold a charge – or unable to hold as big a charge as it used to – quicker.
Here's some guidelines to help to extend your battery's health as much as possible:
Perform shallow discharges.  Instead of discharging to 0% all the time, lithium ion batteries do best when you discharge them for a little bit, then charge them for a little bit.  Discharges to 50% are better for your battery's long-term life then small discharges to 90% or large discharges to 0%.
Don't leave it fully charged.  Lithium ion batteries don't need to be charged 100%.  In fact, they prefer not to be.  So the 40%-80% rule is a good guideline.  When possible, keep it in that range to prolong its life as long as you can.  And if you do charge it 100% – don't leave it plugged in.  If you charge it overnight, use something like the Belkin Conserve Socket to stop it from charging after it's full.
Fully discharge it once a month.  While lithium ion batteries shouldn't be discharged 100% regularly, most modern batteries are what's called "smart batteries", which means that they can tell you how long you have until your battery dies.  This feature can get mis-calibrated after a lot of shallow discharges.  Manufacturers recommend fully discharging your battery once a month to make sure this stays accurate.
Keep it cool.  Excess heat is not only bad for your processor, but your battery as well.  A hot battery will degrade in health much quicker than a cool one.  For this reason, we highly recommend not using your laptop on a soft surface like a bed or your lap (does not allow for sufficient air intake), and we highly recommend using a laptop stand with cooling fans built-in.
If you follow these tips, your battery should last.
Computer problems?
Call 1-204-800-3166
For Cyber-Extermination!