Locky Ransomware Back With New Strain
Locky is back, and is infecting computers worldwide.  
The new Diablo6 strain of the Locky Ransomware is being distributed through spam emails.  It arrives in your inbox with subject lines such as "E 2017-08-09 (698).docx".  The message body simply says "Files attached.  Thanks".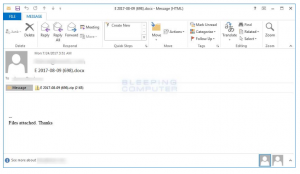 The emails have ZIP files attached that use the same name as the subject line.  If you click on the attachment, it will download the new Locky ransomware & run it on your computer.
As of this morning, the Locky Decryptor TOR payment site has the ransome set to .49 BTC, or approximately $1,600 USD.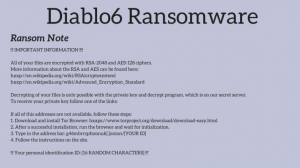 The encrypted files cannot be recovered without either paying the ransom…OR you have reliable backups.
Want help?  Need an IT partner that cares as much about your business as you do?
Call Technology by Design.  We'll build a custom IT plan to suit your needs AND your budget!
You can't stop CyberCriminals from targeting your company or employees.
But you can be prepared for their arrival, and have full shields up.
Got CyberBugs?
Call 1-204-292-8293
For Cyber-Extermination!
#itthatworks