May the Fourth Be With You
May the Fourth Be With You is a full-fledged unofficial holiday:  
Star Wars Day.
As far as Lucasfilm and Disney are concerned, 

it's very official.

Legend has it that the phrase was 1st used May 4, 1979, the day that Margaret Thatcher took office as UK Prime Minister.  Allegedely the Conservative party place an ad in the London Evening News,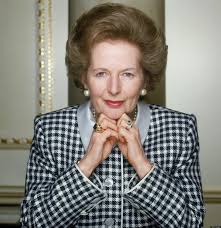 "May the Fourth Be With You, Maggie.  Congratulations."
And that, as they say, "is where history began."
With the advance of social media, it's expanded to real-life events, celebrating the day worldwide.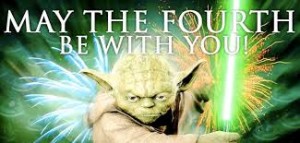 While Lucasfilm did not start the idea of May the 4th (although, I'm sure they wish they had),
they fully embraced the idea, and have been capitalizing on it ever since.
May the 4th kicks off a day of celebration, and more and more official Star Wars partners have offered sales, giveaways, and exclusives.  Including hosting parties and other activities to celebrate the day.

Although, the Empire plans to jam his transmission.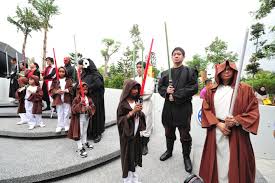 There are online and in-store deals on Star Wars merchandise and gaming.
Star Wars food, and events where fans dress as their favorite Star Wars character.
Most events happened over the weekend, although you can celebrate on your own:
Dust off your favorite Star Wars costume (come on, we all know you have one…), and cosplay with your friends.

Have a Star Wars movie marathon.

 Atlanta's Battle and Brew

offers Star Wars movies and a themed drink…

Donate.  UNICEF and Lucasfilm/Disney have joined forces with a

wearable power band

that allows fans, young and old, to get moving and help children in need around the world.

If you happen to be in Sydney, Australia, you can support

Scott Loxley.

 He's been walking the country in a sandtrooper costume to raise money for charity.  Participants can "walk a mile" in his boots by hopping on a treadmill.

Stay at home and throw your own Star Wars-themed party, complete with Star Wars-themed treats from The Star Wars Cookbook:  Wookiee Cookies and Other Galactic Recipes.  
The Empire Taken Your Computer Over to The Dark Side?

1-204-800-3166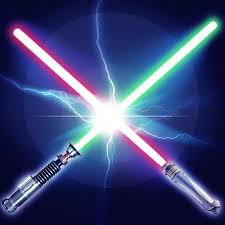 For Lightsaber Action!