Remember the early days, when you controlled your inbox?  
 You would receive an email from a newsletter that you actually remembered signing up for, or an occasional email from the handful of friends that had hotmail accounts.  
Yes, the inbox world was a calm, peaceful receptacle of messages that were welcomed, even anticipated.
Email inboxes are deluged with emails everyday that are neither welcomed, nor anticipated.  The inbox world has become a world of chaos.
As email became widely used, it replaced the face-to-face communication, or even telephone.  It turned into the emotionless primary form of communication.  
It became a major source of wasted work time.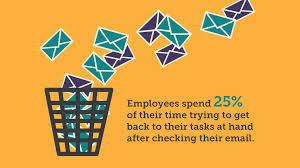 How do you retain control of your inbox?  Follow these easy steps:
1.  Setting Boundaries
A friend has the following as an auto-responder to all emails in his inbox:
Email Tips:

I check my email every few hours…be patient.

The shorter your message, the quicker I'll respond.
The 1st time I received this, I felt disrespected and that he was very rude.  How does he not have time for my email?  Then, I stepped back.  I realized:  This.  Is.  Brilliant.
Email boundaries.  Do you check email first thing in the morning, at lunch, then at the end of the day?  Do you work on emails only from 9 until 11?  Do you only check email on Tuesdays and Thursdays?  You know what's best for you, but boundaries are crucial.
2.  Don't Exceed Expectations
Don't setup false expectations.  Certainly, you want to deliver great service and practice quick communication with clients, but when employees answer a routine email Sunday evening, they just made it acceptable for clients to expect all emails to be answered at that time.  It also sets up the rest of the employees for that client expectation as well.  
Some companies have gone as far as banning email before 6am and after 6pm.  This eases the email burden on employees and eliminates the pressure of trying to catch up or get ahead.  A German car company, Daimler, has installed software that deletes emails for people while they're on vacation, or out of the office.  
3.  Write Better Emails
Are you writing emails that are too long, too short, too wordy, don't get the point across?  What the perfect length for an email?
Guy Kawasaki said, "Less than five sentences is often abrupt and rude, more than five sentences wastes time."  The author and founder of All-Top said, "Proper email is a balance between politeness and succinctness."
Rethink email writing.  Be polite, yet succinct.
4.  Let it Go
Stop allowing your email to become the most important thing in your life.  Don't let your inbox dictate your day.  
Take back control of your inbox, and get on with your life.
Got Cyber-Bugs?
Call 1-204-800-3166
For Cyber-Extermination!