March 31st is:
83% of us own a computer.    89% own a mobile phone.
But
only 1 in 4

people make regular backups of their data.
Think You're Safe?  THINK AGAIN!

 6% of all PCs will suffer data loss in any given year.  This equals 4.6 million PCs that suffer data loss every year.

60% of companies that lost their data for any amount of time, SHUT DOWN within 6 months of the loss.

93% of companies that lost their data for 10 days or more, filed for bankruptcy within 1 year of the loss.




---
What Is A Backup?
It's a separate copy of your important photos and documents.
So if something happens to your computer or mobile phone, your photos and information are completely safe.
Losing Your Data Is More Common Than You Think:
More than 60,000,000 computers will fail this year.

More then 200,000 smartphones are lost or stolen every year.
That's countless documents and treasured memories DESTROYED.
If something went wrong today, what would you lose forever?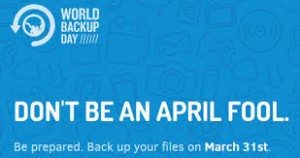 Go To worldbackupday.com to take
The World Backup Day Pledge:
"I solemnly swear to backup my important documents and precious memories on March 31st."
"I will also tell my friends and family about World Backup Day – friends don't let friends go without a backup."
---
9 Questions You MUST Ask Yourself When Planning a Backup Strategy*
It takes time to create and implement a backup and recovery plan.  You need to figure out what data is important and needs to be backed up, how often the data should be backed up, and more.
To help you create a plan, consider the following questions:
1.  How important or sensitive is the data on your systems?
The importance of data can go a long way toward helping you determine if you need to back it up – as well as when and how it should be backed up.
For critical data, such as a database, you'll want to have redundant backup sets that extend back for several backup periods.
For sensitive data, you'll want to ensure that backup data is physically secure or encrypted.
For less important data, such as daily user files, you won't need such an elaborate backup plan, but you'll need to backup the data regularly and ensure that the data can be recovered easily.
2.  What Type Of Information Does The Data Contain?
Data that doesn't seem important to you, might be very important to someone else.
Thus, the type of information the data contains can help you determine if you need to backup the data – as well as when and how the data should be backed up.
3.  How Often Does The Data Change?
The frequency of change can affect your decision on how often the data should be backed up.
For example, data that changes daily should be backed up daily.
4.  Can You Supplement Backups With Shadow Copies?
Shadow copies are point-in-time copies of documents in shared folders.
These point-in-time copies make recovering documents easy, because you can easily go back to an older version in case a document is deleted or overwritten accidentally.
You should use shadow copies in addition to standard backup – not to replace backup procedures.
5.  How Quickly Do You Need To Recover The Data?
Time is an important factor in creating a backup plan.
For critical systems, you might need to get back online swiftly.
To do this, you might need to alter your backup plan.
6.  Do You Have The Equipment To Perform Backups?
You must have the backup hardware to perform backups.
To perform timely backups, you will need the proper equipment, and the proper expertise.
We recommend a minimum of 3TB external hard drive per computer, plus a separate 3TB external hard drive for each server.  However, each business is different and has its individual needs.
Call Technology by Design at 1-204-800-3166
for a free estimate.
7.  Who will be responsible for the backup and recovery plan?
Often, businesses opt to save money and perform the backups themselves.
However, only 20% actually do the backups correctly and on time.
Call TbyD for a free estimate on your
personalized Managed Backup and Recovery Plan.
Choose 1 person at your organization to be a primary contact for the organization's Backup and Recovery Plan.
8.  What's The Best Time To Schedule Backups?
Scheduling backups when system use is as low as possible, will speed up the backup process.
However, you can always schedule backups for off-peak hours.  Some workstations require up to hourly backups.
You need to carefully plan when key system data is backed up.
9.  Do You Need To Store Backups Off-Site?
Storing copies of backups off-site is essential to recovering your systems in the case of a local disaster (e.g. flood, fire, theft, etc.).
In your off-site storage location, you should also include copies of the software you might need to install to reestablish operational systems.
*Adapted from the Microsoft Press book "Microsoft Windows Server 2008 Administrator's Pocket Consultant by William R. Stanek
---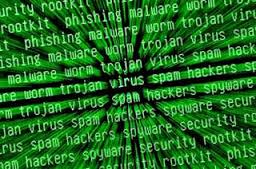 Got Cyber-Bugs?
Call 1-204-800-3166
For Cyber-Extermination!
---