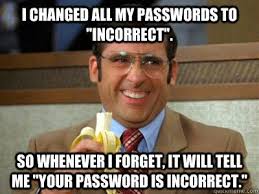 I admit it.  I get lazy sometimes.  You're logging onto a new site, and it asks you to create a password.  ANOTHER ONE!  I have so many passwords it's not funny anymore.  Not at all.  I feel the urge to rebel and punch in "1 2 3 4 5".
But I resist.  Because I know that's one of the most used, and worst passwords.  AND most likely one of the 1st ones that hackers will try.
When hacking into a personal computer, Cyber Criminals usually don't have to break a sweat trying to guess our "clever" password, that's so secretive no one will ever guess it!
Here is the complete list from SplashData's Annual "Worst Passwords" List.    This list was compiled from a list of 3.3 million leaked passwords.  Superheros and fantasy sports entered the list for the first time.  However, some of the top ones have staying power – "123456" and "password" have occupied the top 2 spots for the past 4 years.
123456, no change from 2013
password, no change from 2013
12345, up 17 spots
12345678, down 1 spot
qwerty, down 1 spot
123456789, no change from 2013
1234, up 9 spots
baseball, new
dragon, new
football, new
1234567, down 4 spots
monkey, up 5
letmein, up 1 spot
abc123, down 9 spots
111111, down 8 spots
mustang, new
access, new
shadow, no change from 2013
master, new
michael, new
superman, new
696969, new
123123, down 12 spots
batman, new
trustno1, down 1 spot
This list shows that many people continue to put themselves at risk by using weak, easily guessable passwords.
"Passwords based on simple patterns on your keyboard remain popular despite how weak they are," says Morgan Slain, CEO of SplashData.  "Any password using numbers alone should be avoided, especially sequences.  As more websites require stronger passwords or combinations of letters and numbers, longer keyboard patterns are becoming common passwords, and they are still not secure."
Tips from SplashData:
Don't use sequences on your keyboard, such as the letters on the top row, for your password.
Don't use a favorite sport as your password.  "baseball" and "football" are in the top 10, and "hockey", "soccer" and "golfer" are in the top 100.  Don't use a favorite team either.  Many are in the top 100.
Don't use your birthday, or especially just your birth year.
Don't use your children's names for picking passwords.  Many common names are in the top 50.